June 29, 2019 at 9:30 AM
Tour of Habitat Heroes
We will tour the yards of the Habitat Heroes to see the result of their efforts in planting natives in their yards.  Many plants will be blooming, and we may even see baby Monarch caterpillars on the milkweed.
Meet at: 1339 Swan Drive, Annapolis MD 21409 at 9:30 AM.
June 26, 2019 at 5:15 PM – 6:00 PM
Wednesday Weed Warriors at Serene Ravine
Join us at Serene Ravine, across from 1037 Lake Claire Drive, to continue removing Garlic Mustard and Bush Killer along the stream feeding into Lake Claire.  Bring trash bags to carry these alien invasive plants, and reduce the chance that they will spread to other locations.
April 13, 2019 at 9 AM
Project Clean Stream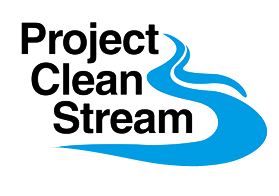 Cape St. Claire Saturday April 13th, 2019  9:00am – Noon Get outside, volunteer for a stream cleanup & make a difference for your community   –   Rain Date Sunday April 14th 9am to Noon
Cape St. Claire Recreation Area Parking Lot
Across the street from Graul's
We will divide up into teams to work on several Cape locations
Volunteer to help make our streams cleaner & safer.
Contact Brad Knopf – 443-324-1130 bdknopf@gmail.com
For those who need GPS directions,  1343 Cape St. Claire Rd, Annapolis MD 21409
Support for Project Clean Stream 2019 from Alliance for the Chesapeake Bay, Perdue and MOMs Organic Market.
www.cleanstream.allianceforthebay.org

April 6, 2019 at 9AM
Plant Packera aurea at Serene Ravine
and Little Magothy  rain garden
As described by Stacey in her last blog, we will plant circles of Packera aurea (Golden Ragwort) around stands of Alliaria petiolata (Garlic Mustard), an invasive alien plant, in an effort to control it.  We will meet at two locations:
Our recently named Serene Ravine (on Lake Claire Drive, half-way between Summit Dr and Glenwood Dale).  We have 200 plants for this site.
At the rain garden installed at the Little Magothy Beach (on Little Magothy View, between Magothy Park Lane and Magothy Circle).  We have 100 plants for this site.
We expect that planting will not take long.
Bring a hand-trowel to set these small plants in the ground.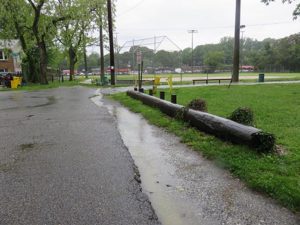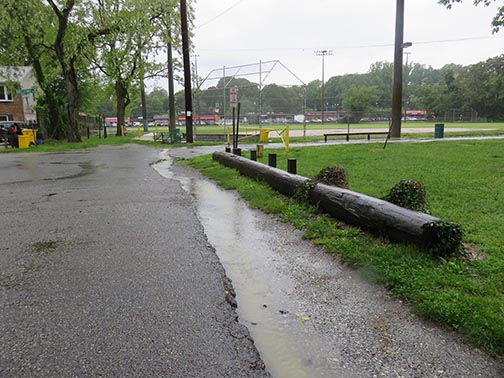 More Projects in the planning
We have many projects that we are discussing, and starting to plan for.  These include:
Beach erosion at all beaches (discussed at the CSCIA quarterly meeting Summer 2016).
Run-off at the Deep Creek boat ramp.
Bamboo eradication along Fairwinds Marina.
Run-off at Graul's parking lot and ball field.
Phragmites control at Little Magothy inlet.
Erosion control at the Lake Claire Beach parking lot.
All these will require upfront investments ! While we hope to obtain various grants to pay for the bulk of the work, the request for these grants often require site plans describing every aspect of the work to be accomplished.  These plans require the participation of professionals, whom we will pay from the funds of the Cape Conservation Corps.  This is one way you can help ! Our Harvest Bash fundraiser goes a long way  (thank you to all who were there !).   Your $20 annual membership donation (tax deductible) goes the rest of the way.
And these projects will also require time investment from volunteers.  Many of these grants require community participation in manpower.  The more of us showing up with shovels, and other implements, the better the community looks to the grant givers, and the more likely they will be willing to give us the next grant.  So this is the other way you can help !  Whether or not you contribute with membership or Harvest Bash, give us you contact information (email is preferred) so we can let you know of the next work day.